Back to Blogs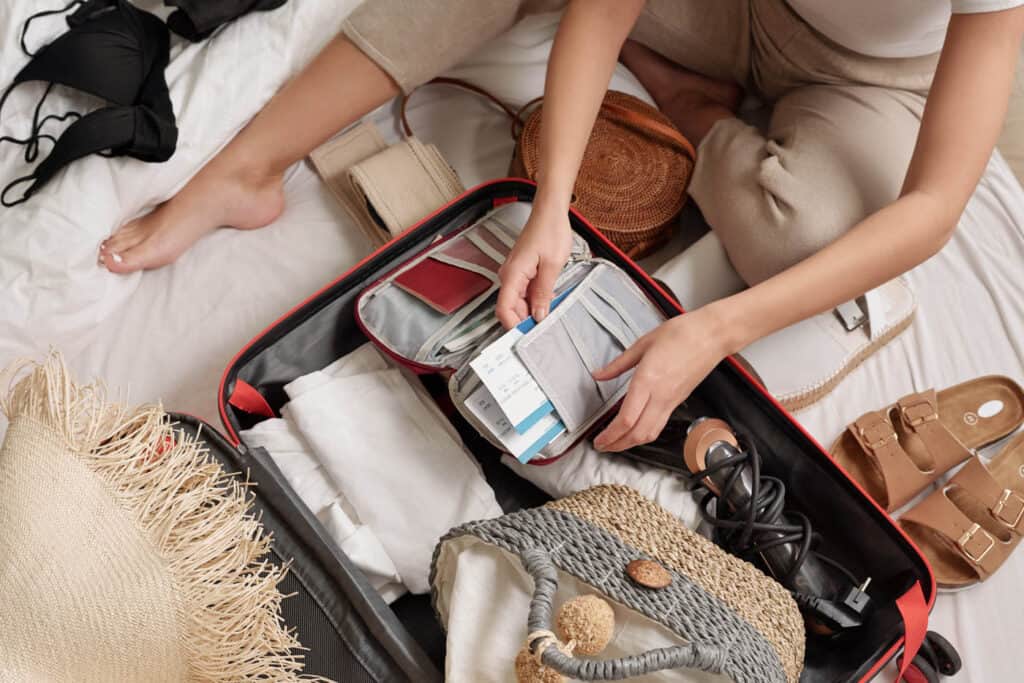 ​Your hand luggage is more than just a bag; it's your in-flight haven filled with essentials to make your journey comfortable and enjoyable. From travel documents to comfort items, entertainment, and snacks, each item plays a crucial role in ensuring a smooth flying experience. In this blog we will help you pack your hand luggage with the essential and convenience for your travel.
1. Travel documents and wallet
The first thing and most important thing to have in your hand luggage is of course your passport, your boarding pass, and if needed any visas. Boarding passes and Visas can be online, however, it can be smart to print these documents as well to be sure. Next to these documents, you need to have your wallet. If you travel to a country with a different currency, it can be smart to already have changed your money to that currency.
2. Electronics and chargers
Of course, in this era it is important to stay connected. Pack your smartphone, tablet, e-reader, or laptop, depending on your preferences and needs. Don't forget to include their respective chargers and perhaps a portable power bank to ensure you stay powered up throughout your journey. Also look up if the country you are travelling to have different plugs for charging.
3. Headphones
Long flights can be noisy and tiring. A pair of noise-cancelling headphones can transform your flying experience by providing you with a quiet oasis. These headphones not only block out the engine noise but also allow you to enjoy your favourite movies, music, or podcasts without disturbances.
4. Drinks and Snacks
Nowadays you can take water and other drinks and snacks with you through security at Schiphol. Therefore, you can bring your own water bottle to stay hydrated on the flight. The same goes for snacks, to safe yourself some money, you can take some snacks with you on the flight.
5. Entertainment
Flights can be boring. Therefore it might be useful to bring some entertainment on board. Think about a good book, a magazine, or make sure you have downloaded some music of films on your smartphone beforehand. Long flights mostly have little tv's on which you can watch a movie or play some games, however, sometimes these do not work, so better be safe than sorry and download your own movies as well 😉!
6. Toiletries
A few travel-sized toiletries can make you feel refreshed and comfortable during or after the flight. Bring a small bag with some facial wipes, hand sanitizer, toothbrush and toothpaste, a little deodorant and some lip balm. This way you can start your journey all fresh!
7. Travel guide
Whether you are going on a business trip or on a long holiday, use the time on the plane to plan an unforgettable trip. Even if you do not have a lot of time in the city, knowing which places you need to go for the best food is important to know! Read pre downloaded articles about the city or country you are going tom, or you could for example buy a variety of travel guides at the airport or at bookstores beforehand.
8. A spare set of clothes
Let's hope it is not the case, but there is always the chance that your luggage gets lost. Therefore, always bring a set of spare clothes in your hand luggage. Some clean underwear, on pair of jeans or shorts - depending on where you are going – and an extra t-shirt should be good.