Werk & IK are proud to be partners with
Thuisbezorgd - Just Eat Takeaway
​
Just Eat are the worlds leading food delivery company serving over 100 million customers per year.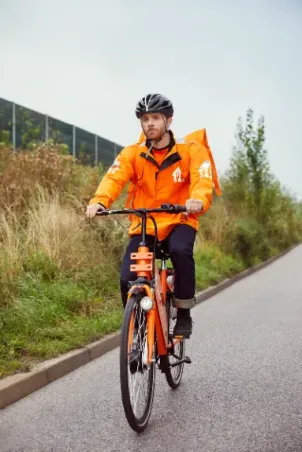 ​
To provide customers with tasty meals and snacks to their door they rely on a network of delivery couriers.
​
As a preferred partner of Just Eat we are able to offer employment opportunities both full and part time for people seeking both full and partime work.
​
Just Eat provide a great working environment, providing support, safety and all the equipment you need to be a successful courier and enjoy:
​
Flexible hours - full and part time

Freedom to explore the Netherlands wonderful cities

The ability to connect with people

A job that keeps you fit and healthy
Interested? Click here to see our Just Eat Takeaway Vacancies
​
​
See Just Eats video explaining a bit more:
​
​
​
In return for joining the team at Just Eat you'll receive:
Good rates of pay - and paid for all hours worked even when waiting

City bonuses - depeneding where you work

Further bonuses and allowances when working busy shifts

Full holiday pay

Work from Home or from one of Just Eats friendly hubs

Access to e-bikes

Use of the Just Eat Technology to help you get going and earning.
Interested? click here to see open vacancies
​

​
​
Just Eat value their employees and from day one you coordinators will help you to become part of the team. You'll recive full training including systems and importantly safety.
Contact s now to find out more details about getting a role with Just Eat Takeaway or click here to apply
​